About
Azyrax is a self-taught traditional and digital character artist from the United States. Fascinated by fantasy and folktale, her artwork lives and bleeds it!

From a young age, she loved drawing original characters to use in her own stories and comics. These characters were inspired mainly by video games she played at the time and that kind of inspiration lasted well into her teen years when she finally delved into MMORPGs.

One game in particular, World of Warcraft, sparked her interest in learning digital art! A lot of the roleplay community had commissioned art for their characters which seemed like the perfect idea for younger Azy who loved drawing characters. A day after achieving her first digital portrait using GIMP and a mouse, she got her first art tablet from her dear mother in 2016. A whole new artsy world!

After a few years of doing commissions off and on, the shop idea came about. After all, when she was twelve she wanted to make an edgy-nerdy-niche shop, so why not now? She spent a few years learning all the ropes to go on that endeavor, legal ones, mathy ones, and design ones in particular. Now, after those few years, we're here! A little shop full of mystical merch with a few cute and smol friends on the side, typically lurking in the stationery aisle.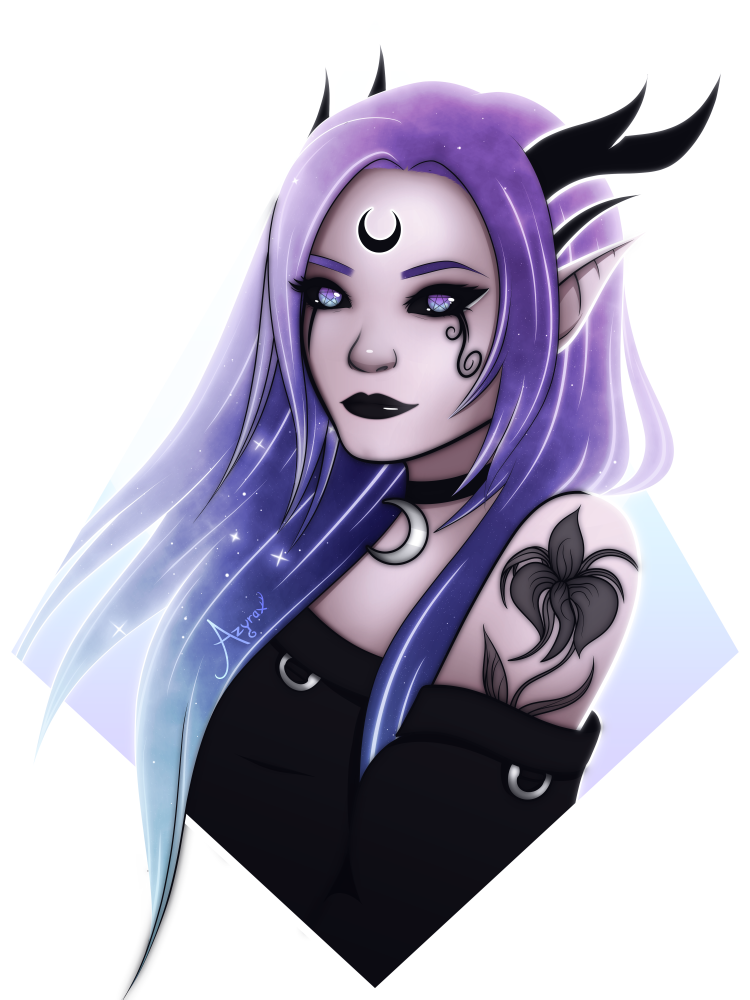 Self-portrait by Azyrax, 2023
Fun Facts
✦ Despite the majestic and dark aesthetic, Azy is nothing more than a marshmallowy goofball who likes chocolate too much.

✦ She's mostly nocturnal for the peacefulness night brings, and the fact she works night shifts—mostly the latter.

✦ Her favorite games are Final Fantasy XIV, Guild Wars 2, World of Warcraft, and Disney's Dreamlight Valley.

✦ May as well add some favorite bands! Bring Me the Horizon, Shireen, Lord of the Lost, Blackbriar, Psyclon Nine, Invocation Array, and Steam Powered Giraffe.

✦ Last but not least, she is very socially awkward and a big introvert, so the shadows is where she'll be. With a large supply of chocolate, no doubt.